The Latest in Student Housing – Universities With the Largest Programs and the Developers Who Are Supporting Them
Student enrollment and retention are obviously the focus of all universities and colleges. It used to be that institutions addressed these concepts by simply providing strong academic programs. Then, along came the whole concept of a beautiful campus and facilities. Now, not only is a robust education necessary, but an attractive campus environment, including student housing, to draw and retain students.
Maintaining a strong reputation for all of these factors can be difficult. That is why many higher education institutions have chosen to focus on their academic priorities, and let top education architecture and construction firms support their non-residential facilities needs, and developers address their student housing challenges.
Enter public-private partnerships…
Public-private partnerships for student housing was a new concept just 10 years ago. Now, it has become a popular and almost necessary alternative for institutions, especially those that have significant enrollments. Today's students put heavy weight on campus housing when deciding where they will further their education. They command residential facilities that are upscale, functional, safe, and that offer a sense of community. They want the all the comforts of home, and in some cases, much more.
In 2017 alone, about $8B was invested in student housing. 
Needless to say, student housing continues to be a hot market for developers and investors. Just consider these numbers – of the top 25 developers noted below, more than 181,000 beds are being developed through fall of 2021. In 2017 alone, about $8B was invested in student housing. Granted, that was down from the $9.8B invested in 2016, but it still represents significant growth from years prior. Even more interesting is that more than 40% of last year's deals were made by international groups.
Who are the top student housing developers?
According to Student Housing Business, as of 2017, these companies were: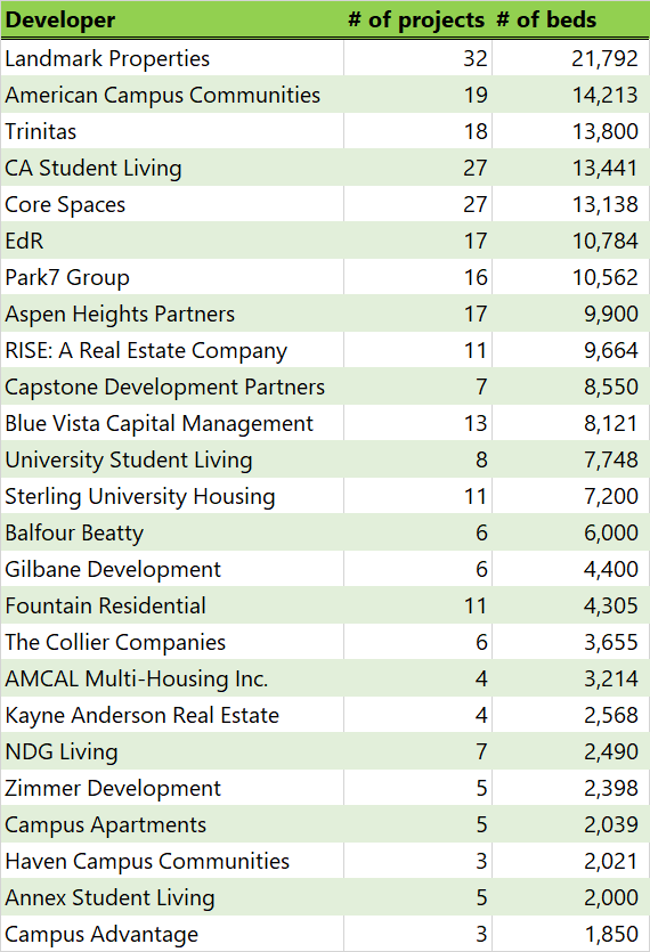 The top institutions contributing to these numbers are: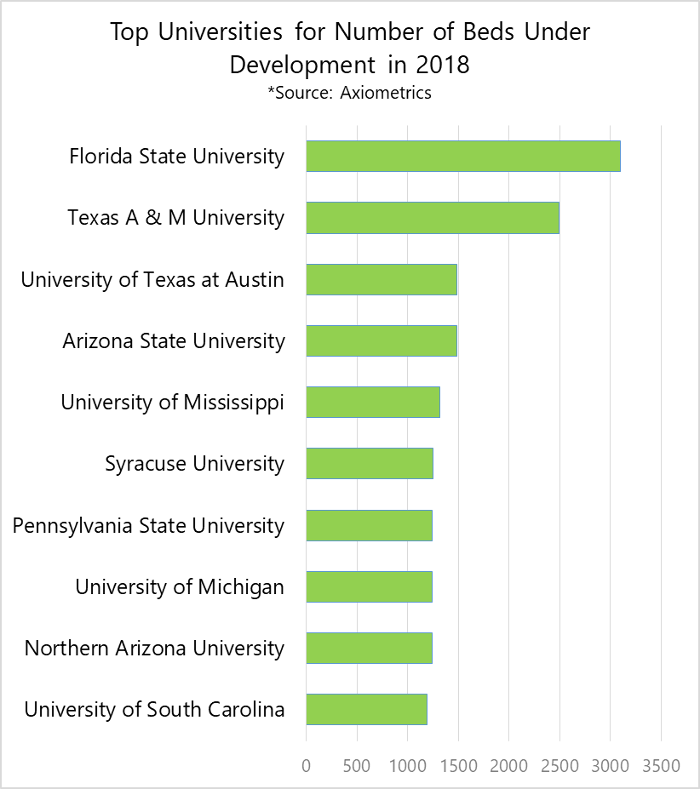 In addition to the above universities that are developing the most beds, worthy to note are:
University of Kentucky
UK averaged 1,300 new/renovated beds every year 2013 – 2017, with the most coming in 2014. According to its 2012 Master Plan, housing development was at the top of its priorities. Most of this strategy was accomplished through a public-private partnership with EdR, a major housing REIT. One of the payoffs of this concept was the university saw better student recruitment and retention. For example, its graduation rate increased from 56% in 2012 to 66% in 2017. It opened its latest development, University Flats, in 2017. The development of two and four-bedroom fully-furnished units is open to undergraduate as well as graduate students.
San Diego State University
SDSU has 34,000 students, and for the past seven years, the university has maintained a nearly 97% average housing occupancy. The institution has student safety and comfort at the top of their priorities with their units offering seismic upgrades, fire prevention and suppression, double-paned windows and low flow fixtures.
University of South Florida
USF boasts 61,000 students so one can only imagine its housing needs. Its newest development, The Village, is the largest student housing public private partnership in Florida and Capstone's 6th public private partnership in the state.  The Village is comprised of 885 beds for first and second year students, The Hub dining center, and The Fit wellness center. With Phase 2 set to be completed this month, The Village will provide 578,000 square feet of new facilities on the campus. The value of the project is $134M.
What's changing in the student housing development market?
Community colleges are prime prospects.
These schools are becoming a hot market for student housing development because their enrollments are growing as they successfully fill the gap for many students.
Architecture and design is changing from luxury to flexibility.
According to Urban Land, the demand for infinity pools and upscale game rooms is diminishing. These perks are being replaced by larger kitchen areas and flexible study/lounge areas. A sense of community and wellness are now central to developments.
Renovations of older buildings can be favorable compared to new construction. 
With land becoming more expensive and new construction costs rising, many developers are looking toward the redevelopment of older buildings. Transforming a building that is no longer in use into a much-needed and used space can be in a developer's favor and is certainly positively viewed by local municipalities. Depending upon the developer's vision and the creativity of its architecture and design team, these spaces can be modern, progressive, and actually preferred over new spaces.
Developments in urban areas that cater to multiple local institutions.
Student housing and mixed-use developments in urban areas are becoming increasingly popular as well. Designed right, these facilities can support local colleges and universities that are challenged by housing deficits, growing enrollments, and limited funds. Local business also favor these development because they substantially enhance their customer base, which in turn, supports the community.
As student enrollment continues to grow, and institutions keep pace with new generations of students and their wants and needs, the student housing market will continue to be active. Although it may cool for the next few years, it's certain to break records again.
https://www.helblingsearch.com/insight-most-active-student-housing-developers